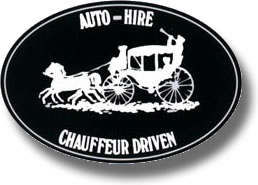 Chauffeur Driven Tariff
All hires start and terminate at our garage

Luxury saloon cars:

Super-Lux, Stretch Limo, Luxury People Carrier

Vehicle Model:

Mercedes 'E' Class, Jaguar XJ long wheel base & Volvo S80

Mercedes 'S' Class, Mercedes Stretch Limousines, Chrysler Grand Voyager etc.

Basic charges :

Hourly Rate only -

Inside M25 Motorway

PER HOUR

£ 28.00

PER HOUR

£ 32.00

Hourly Rate only-

Outside M25 Motorway

£ 35.00
£ 40.00
Hourly rate plus
£ 15.00
£ 20.00
Mileage charge

£ 1.50

£ 2.00

Minimum charge

for one hire (1.5 hours)

£ 42.00

£ 48.00

Daily Rate - London Area

8 hrs & 40 miles

£ 160.00

£ 200.00

Daily Rate- Outside London

8 hrs & 90 miles

£ 220.00
£ 280.00
Transfers :

Heathrow/City/Northolt Airports

2 hours & 40 miles

£ 55.00

£ 66.00

Gatwick/Stansted/Luton/

Farnborough Airports

4 hours & 70 miles

£ 105.00

£ 120.00

Heathrow to Gatwick

(or vice versa)

4 hours & 90 miles

£ 130.00

£ 145.00

Southampton Docks

6 hours & 180 miles

£ 265.00
£ 295.00
Sightseeing :

Windsor & Hampton Court

5 hours

£ 175.00

£ 200.00

Theatres/Evening Hires

4 hours & 40 miles

£ 112.00
£ 128.00
Tel: 020 8748 3000, Fax: 020 8748 7075
NOTES FOR YOUR GUIDANCE
Rates subject to U.K. VAT.
Gratuities NOT included - at client's discretion.
25% Surcharge on Public Holidays.
No extra charge after midnight.
Excess over Time and Mileage limitations calculated at basic rate.
Chauffeur's overnight subsistence allowance by arrangement.
Other quotations on request, including ROLLS-ROYCE - LUXURY MINI-BUSES AND COACHES.
Special rates for extended hires.
24 hour service.
Daily concession rate, applicable only to hires of 2 days or more.
Cars equipped with CELLULAR MOBILE PHONES.
Full range of Wedding Cars available- Brochure on request.
Chauffeurs available to drive clients own cars. Rates on request.
---
138/140 Hammersmith Road
London W6 7JP
United Kingdom
Tel: +44 (0)20 8748 3000
Fax: +44 (0)20 8748 7075

Next Page | Intro | Tours | Services | Tariff | About us | Contact Page
Tour of London| Windsor and Hampton Court| Bath, Stonehenge and Salisbury
Oxford, Cotswolds and Stratford upon Avon| Cambridge, Kent and Sussex
Copyrightę2001-2003 MAXWELL CAR SERVICES